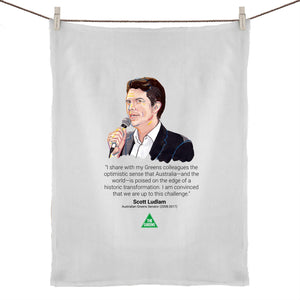 Scott Ludlam was truly a senator for the people. And if you're anything like us, you're still not quite over his sudden exit from Parliament.

This tea towel is one in a series of four created to celebrate Australian Greens legends. Featuring one of Scott's most memorable quotes and accompanied by artwork by Perth (Boorloo) artist Joana Partyka, it's the perfect way to mark Scott's incredible service to the Australian public.

Item measures 50cm x 70cm. Constructed from 50% linen, 50% cotton.

This item may take 5-10 working days to be shipped once order is received.